The Importance of Dental Health
February kicks off National Children's Dental Health Month. Why is children's dental health month so important, let alone dental health? This month is all about getting children, and families, excited and willing to take care of their dental health. According to the American Dental Association, Children's Dental Health was started as a one day celebration in 1949. It was made to bring awareness and have resources out for families. It then moved to a national month-long celebration in 1981.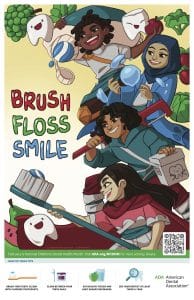 National Children's Dental Health Month was originally made to bring awareness into communities about oral and dental health. Dental health is so important, especially with children because it sets them up to continue with proper dental health habits.
You  might be thinking, my child is still a baby, why would dental health be so important to them? That is a great question! Dental health with babies, maybe even before they have teeth, can help them get used to the feel of a toothbrush or any dental health tool being in their mouth. According to the CDC, you can start by wiping your baby's gums twice a day with a soft, clean cloth in the morning after their first feeding and at night to wipe away any bacteria or sugars that could cause cavities. When your baby starts to have teeth coming in, you can use a small, soft bristled toothbrush and plain water to gently brush their teeth. Visit the dentist by your baby's first birthday to try and spot any early signs of dental problems. Talk to your child's dentist or pediatrician regarding fluoride toothpaste if they are under the age of 2.
For children that have all of their teeth, you can brush twice a day with a fluoride toothpaste. You might notice that as your child is getting older, their brushing skills might not be the best, so you can help them out or watch videos that teeth them how to properly brush teeth. You can talk to the dentist about dental sealants when appropriate to help lower the chances of cavities.
The big thing that most dentist worry about are cavities. There are ways to prevent them too! According to the CDC one way is a fluoride varnish can prevent almost one-third (33%) of cavities.  Another way is asking your child's dentist to apply dental sealants to not only the front teeth but also the back teeth and chewing surfaces. This will prevent 80% of cavities.