Six More Weeks of Winter!
It just so happens that it is Groundhog's Day, which it is said there is six more weeks of winter coming our way, and we are talking about winter activities!  With more winter weather potentially coming our way, I'm sure most families could need some ideas on what to do with their little ones at home. Whether it is a snow day from school or just a snowy/cold weekend, here are some ideas for how to engage with your kids.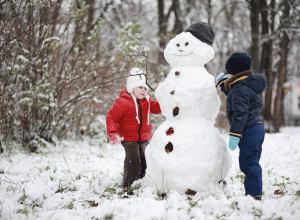 -For younger ones at home, bring the snow inside! It is a great sensory activity and the plus side is its just water! Put it in a larger square bin (a large Tupperware, sensory table, empty water table). You could even use some food coloring to work on making colors, cookie cutters to work on shapes and smaller containers to work on filling and emptying.
-This could also work for rainy, cold days as well, but make a blanket fort! Gather all the blankets, pillows, comfy things and make a fort. You can put it in the living room near the tv so you can still watch movies or a show. Make it big enough to play games in it.
-Go outside and make a snowman! One of the best things about snow days is the amount of snow that is now in your yard. Collect some sticks, buttons, rocks or anything that can be used for the face. Everyone can build their own snowman to build a family or work together to build one big one! After a day of building snowmen outside, warm up inside with some hot chocolate.
-Another winter/snow day activity is sledding! Find your sleds and find the best local hill to go enjoy a day together outside.
Check out Help Me Grow Kenosha's Pinterest page linked here!