Raising Responsible Children
Accomplishing a task that a child is responsible for is very rewarding for them and boosts their self esteem.  It is essential for parents, caregivers and teachers to know the importance of teaching responsibilities to children starting at a young age.  As preschoolers get older and gain more independence, learning responsibility is essential.  There are many ways to get your preschool aged child involved in household chores or being more active in taking care of their belongings.  Simple things like helping carry in groceries, helping set the table, removing their plates from the table after a meal, cleaning up their toys, feeding a pet and putting away their toothbrushes after brushing are all simple ways to get your preschooler to work on responsibility at home.  Check out Kids Chores List by Age: The Ultimate List of Age-Appropriate Chores (childdevelopmentinfo.com) for a full list of ideas for chores for children.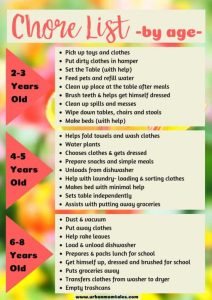 Creating a chore chart to hang up in the home is a fun way to get your child involved and excited about helping out.  Check out Free Printable Preschool Chore Charts (sugarbeecrafts.com) for fun and free chore charts!  In addition to responsibility within the home, parents should also teach their children about being responsible with their personal hygiene.  From a young age children can learn responsibility by establishing proper teeth brushing, hand washing and bathing habits.
As parents, and caregivers, it is important to be a good role model for your children. Start modeling responsibility at a young age, use open ended questions when discussing their chores and make room for lots of talks about proper hygiene. This will ensure that they grow up understanding the importance of being responsible!